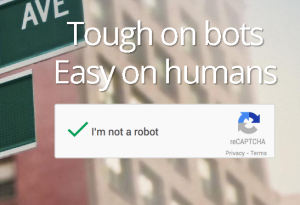 By Richard Stobbe
Most of us have had to pass through a CAPTCHA screen in order to log in or use a web-based service. This often involves deciphering and typing in one or two garbled words.  One of the more popular screens is operated by Google and known as reCAPTCHA.
When Google recruits your human brain to decode text in the reCAPTCHA screen, it is doing two things: it is providing a service that protects websites from bots, automated spam and abuse, "while letting real people pass through with ease."  Second, it is deciphering text that stumps OCR technology, all the while teaching its own robots, through machine learning, to improve their predictive analysis of human text. (We can have a philosophical discussion about how being "tough on bots" is actually teaching the bots to read like humans… but that's a topic for another day).
Put another way, "Google is 'crowd sourcing' the transcription of words that a computer cannot decipher." In a fascinating decision (GABRIELA ROJAS-LOZANO, v. GOOGLE, INC.),  a California court has dismissed a class action claim that users deserved some compensation for the service they were providing to Google.  To paraphrase, the lawsuit alleged that Google failed to disclose that the second reCAPTCHA word was used for transcription services (from which Google profits) rather than for website security purposes.
However, according to the judge, profit by Google does not translate into a loss for the user who performs this micro-task, which takes each user only a few seconds.  Plaintiff could not cite any case that supports the theory that a non-employee transcribing a single word is owed compensation.  Since this is such a small amount of time, and there was no loss, damages or reliance on the part of the user, and no actionable misrepresentation or unjust enrichment on the part of Google, the court concluded that the class action should be dismissed.
Hat tip to Professor Eric Goldman, who calls this "one of the most interesting Internet law rulings so far in 2016."
Calgary – 07:00 MT
No comments