.
By Richard Stobbe
Ever wanted to remove something after it had been swallowed up in the gaping maw of the internet? Then you will relate to this story about an individual's struggle to have certain content deleted from the self-appointed memory banks of the web.
The Federal Court recently rendered a procedural decision in the case of Davydiuk v. Internet Archive Canada and Internet Archive 2016 FC 1313 (for background, visit the Wayback Machine… or see our original post Copyright Implications of a "Right to be Forgotten"? Or How to Take-Down the Internet Archive).
For those who forget the details, this case relates to a long-running plan by Mr. Davydiuk to remove certain adult video content in which he appeared about a dozen years ago. He secured the copyright in the videos and all related material including images and photographs, and went about using copyright to remove the online reproductions of the content. In 2009, he discovered that Internet Archive, a defendant in these proceedings, was hosting some of this video material as part of its web archive collection.  It is Mr. Davydiuk's apparent goal to remove all of the content from the Internet Archive – not only the video but also associated images, photos, and screenshots taken from the video.
The merits of the case are still to be decided, but the Federal Court has decided a procedural matter which touches upon an interesting copyright question:
When a screenshot is taken from a video, is there sufficient originality for copyright to extend to that screenshot? Or is it a "purely mechanical exercise not capable of copyright protection"?
This case is really about the use of copyright in aid of personal information and privacy goals. The Internet Archive argued that it shouldn't be obliged to remove material for which there is no copyright. Remember, for copyright to attach to a work, it must be "original". The Supreme Court of Canada (SCC) has made it clear that:
For a work to be "original" within the meaning of the Copyright Act, it must be more than a mere copy of another work.  At the same time, it need not be creative, in the sense of being novel or unique.  What is required to attract copyright protection in the expression of an idea is an exercise of skill and judgment.  By skill, I mean the use of one's knowledge, developed aptitude or practised ability in producing the work.  By judgment, I mean the use of one's capacity for discernment or ability to form an opinion or evaluation by comparing different possible options in producing the work. This exercise of skill and judgment will necessarily involve intellectual effort. The exercise of skill and judgment required to produce the work must not be so trivial that it could be characterized as a purely mechanical exercise.  For example, any skill and judgment that might be involved in simply changing the font of a work to produce "another" work would be too trivial to merit copyright protection as an "original" work. [Emphasis added]
From this, we know that changing font (without more) is NOT sufficient to qualify for the purposes of originality. Making a "mere copy" of another work is also not considered original. For example, an exact replica photo of a photo is not original, and the replica photo will not enjoy copyright protection.  So where does a screenshot fall?
The Internet Archive argued that the video screenshots were not like original photographs, but more like a photo of a photo – a mere unoriginal copy of a work requiring a trivial effort.
On the other side, the plaintiff argued that someone had to make a decision in selecting which screenshots to extract from the original video, and this represented an exercise of sufficient "skill and judgment".  The SCC did not say that the bar for "skill and judgment" is very high – it just has to be higher than a purely mechanical exercise.
At this stage in the lawsuit, the court merely found that there was enough evidence to show that this is a genuine issue. In other words, the issue is a live one, and it has to be assessed with the benefit of all the evidence. So far, the issue of copyright in a screenshot is still undetermined, but we can see from the court's reasoning that if there is evidence of the exercise of "skill and judgment" involved in the decision-making process as to which particular screenshots to take, then these screenshots will be capable of supporting copyright protection.
Stay tuned.
Calgary – 07:00 MT
No comments
By Richard Stobbe
Last month, Amazon made its first delivery via drone with its Prime Air service. Remember, this is an e-commerce company not a drone manufacturer. Amazon is pushing the limits in the use of unmanned aerial vehicles (UAVs) and is laying the groundwork for an IP protection portfolio for this technology, even where it does not apparently benefit Amazon's core business. This shows that innovation can open up other product channels that could be licensed, for example, to drone manufacturers. For instance, Amazon's newest issued patent relates to a mini-drone to assist in police enforcement. Think of a traffic stop which is accompanied by the whine of a small pocket-sized drone that can monitor and record the interaction or chase bad guys.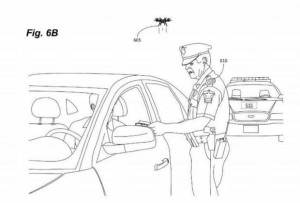 Other innovations are squarely within Amazon's core competencies of order fulfillment. Another recently issued patent seeks to protect drones from being hacked and rerouted en route.
Another application filed in April 2016 describes an aerial blimp-like order fulfillment center utilizing UAVs to deliver items from above. This shows that the growth in drone-related patents will not all be related directly to the individual drones, but rather will relate to the evolving ecosystem around the use of UAVs, including remote control technologies, payload innovations, docking infrastructure, and commercial deployments such as the Death Star of e-commerce.
Calgary – 07:00
No comments