By Richard Stobbe
A group of employees invented a patentable invention. Advanced Video obtained the patent,  and then moved to sue a competitor for infringement. The alleged infringer challenged Advanced Video's right to sue, pointing out that Advanced Video did not have standing to sue for infringement, since it never obtained the transfer of patent rights from the employee-inventor.
The U.S. case Advanced Video Technologies LLC v. HTC Corporation reviews the narrow issue of whether a co-inventor of the patent transferred her co-ownership interests in the patent under the terms of an employment agreement.
The patent in question listed three co-inventors: Benny Woo, Xiaoming Li, and Vivian Hsiun. The invention was created while the three co-inventors were employed with Infochips Systems Inc. ("Infochips"), a predecessor of Advanced Video.  Through a series of steps, two of the inventors, Mr. Woo and Ms. Li assigned their coownership interests in the patent to Advanced Video. The co-ownership interests of Ms. Hsiun were the subject of this lawsuit.  Advanced Video claimed that it obtained Ms. Hsiun's co-ownership interests in the invention through the original employment agreement with that employee.
A review of Ms. Hsiun's employment agreement indicated that the clause in question was pretty clear:
I agree that I will promptly make full written disclosure to the Company, will hold in trust for the sole right and benefit of the Company, and will assign to the Company all my right, title, and interest in and to any and all inventions, original works of authorship, developments, improvements or trade secrets which I may solely or jointly conceive or develop or reduce to practice, or cause to be conceived or developed or reduced to practice, during the period of time I am in the employ of the Company. (Emphasis added)
For emphasis, the employment agreement went on to say:
I hereby waive and quitclaim to the Company any and all claims, of any nature whatsoever, which I now or may hereafter have infringement [sic] of any patents, copyrights, or mask work rights resulting from any such application assigned hereunder to the Company. (Emphasis added)
Translation? The employee agrees that she will assign to the employer all rights to any and all inventions developed by the employee during employment.
Surprisingly, the court decided this language did not clearly convey the rights to the invention, since the word "will" invoked a promise to do something in the future and did not effect a present assignment of the rights.
This was merely a promise to assign, not an actual immediate transfer of the invention.
While this is a U.S. case, it neatly illustrates the risks associated with the fine print in employment agreements: to avoid the problem faced by Advanced Video, it's valuable for employment agreements to automatically and immediately assign and transfer rights to inventions, and to avoid any language that suggests a future obligation or future promise to assign.
The lesson for business in any industry is clear: ensure that your employment agreements – and by extension, independent contractor and consulting agreements – are clear. Intellectual property and ownership of inventions should be clearly addressed. Get advice from experienced counsel to ensure that the IP legal issues are covered – including confidentiality, consideration, invention ownership, IP assignment, non-competition and non-solicitation.
Related Reading: Â Employee Ownership of Patentable Inventions
Calgary – 07:00 MST
No comments
By Richard Stobbe
Canada's Anti-Spam Law (affectionately known as CASL) is best known as a means to combat unwanted email and other commercial electronic messages, but the law also contains anti-malware provisions. We first reviewed those software-related provisions in 2014, when the legislation was being rolled out. Essentially, you can't install software onto someone's computer or device without getting their consent.
The CRTC recently announced an enforcement action against two Ontario companies, Datablocks and Sunlight Media, and assessed a Notice of Violation carrying penalties of $250,000, for allegedly aiding in the installation of malware through the distribution of online advertising. The penalty can be disputed by the two companies.
This recent notice of a possible penalty comes hot on the heels of a search warrant which was executed in January, 2016.  So, that means the legislation came into force in January, 2015… the first search warrant was in 2016… the first penalties were assessed in July 2018. Not exactly an enforcement blitz.
Perhaps the take-home message from this case is that the companies in question are alleged to have accepted anonymous clients who then deployed malware to the computer systems of Canadians using the infrastructure and operations of Datablocks and Sunlight Media.  It may be good practice for vendors to implement some version of the "know your client" rules that currently apply to banks, financial advisors, lawyers and other professional advisors. At a minimum, compliance should involve written agreements with clients or customers, and according to the CRTC, neither Datablocks nor Sunlight had written contracts in place with their clients regarding compliance with CASL, or monitoring measures in place to guard against this risk.
Calgary – 07:00
No comments
By Richard Stobbe
When a Canadian woman looked to buy CUBAN LUNCH brand chocolate bars for her mother, she found the product was discontinued.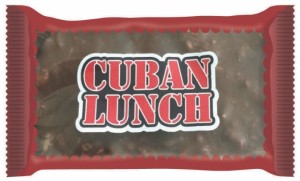 It appears that an Albertan, Crystal Regehr Westergard, saw an entrepreneurial opportunity.  After realizing the product had been abandoned by the original manufacturer, and the Winnipeg factory that made Cuban Lunch closed down nearly three decades ago, she decided to remake the product herself, and revive the trademark. The original trademark CUBAN LUNCH was registered in Canada in 1983 for "Confectionery namely chocolate bars", claiming use in Canada since December 1948. After being passed through a number of different owners throughout the late 1990s up until 2013, the original trademark was finally expunged from the register at the Canadian Intellectual Property Office in 2015 for failure to renew. 1948-2015. Not a bad run for a candy bar brand.  This is usually the end of the line for an aging trademark, where the product has been discontinued.
The Westergards submitted a new trademark application to the Canadian Intellectual Property Office for the CUBAN LUNCH trademark, listing the same goods, and claiming use since May 2017.
This raises an interesting trademark question: Can an old, retired trademark be reborn with a new owner?
In Canada, trademark rights are based on use. Once use begins, trademark rights come alive. When use ceases, trademark rights die out. It's important to remember that the registered rights recorded in the trademarks office are merely reflective of the actual use of that mark in the marketplace.  To use the more eloquent phrasing of the Supreme Court of Canada: "Registration itself does not confer priority of title to a trade-mark.  At common law, it was use of a trade-mark that conferred the exclusive right to the trade-mark.  While the Trade-marks Act provides additional rights to a registered trade-mark holder than were available at common law, registration is only available once the right to the trade-mark has been established by use." (Emphasis added) (Masterpiece Inc. v. Alavida Lifestyles Inc., [2011] 2 SCR 387, 2011 SCC 27 (CanLII))
Trademark rights lapse and die all the time, where the rights are no longer used, and are therefore legally extinguished.  In theory, there is no reason why a new business owner cannot commence use of a "dead" mark and notionally adopt that mark as their own, breathing new life into the trademark rights through their own use of the mark with their own product.  Of course, it's important to note that even if registered rights lapse (for example, for failure to pay renewal fees), the underlying common law rights might continue. Let's say a registration lapsed because of a clerical oversight; this oversight alone would not impact the underlying commercial use of the mark which might be alive and well.  As noted above, registration is merely an official recordal of the rights endowed by actual use.
In the case of the CUBAN LUNCH mark, the reports appear to indicate that the original mark suffered a death both in actual commercial use and in registration. If that's the case, then the original trademark is no longer a trademark, and those words are free to be adopted by a new owner.
Now… it's high noon. Where do we buy a CUBAN LUNCH ?
Calgary – 07:00
No comments