.
By Richard Stobbe
As noted in Part 1, IP rights in the fashion and apparel industry are fiercely contested. Fashion products can be protected in Canada using a number of different IP tools, including:
confidential information
patents
industrial design or "design patent"
trademarks
trade dress
copyright
personality rights.
For many products, there will be an overlap in protection, and we'll discuss some examples. In Part 2, let's review the next couple of areas:
Industrial Design or "Design Patent":
I always tell my clients not to underestimate this lesser-known area of IP protection. It can be a very powerful tool in the IP toolbox.  In both Canada (which uses the term industrial design) and the US (which refers to a design patent), this category of intellectual property only provides protection for ornamental aspects of the design of a product as long as they are not purely functional . To put this another way, features that are dictated solely by a utilitarian function of the article are ineligible for protection.
Registration is required and protection expires after 10 years.  A registrable industrial design has to meet certain criteria: (i) it must differ substantially from the prior art (in other words it must be "original"); (ii) it cannot closely resemble any other registered industrial designs; and (iii) it cannot have been published more than a year before application for registration. Some examples: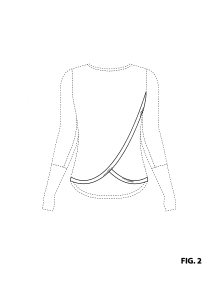 This depicts a recent registration by Lululemon. The design comprises the pattern feature of a shirt as depicted in solid lines in the drawings. (The portions shown in stippled lines do not form part of the design.)
The solid lines on the image above represents a protected design registration filed by Nike.
TIP: Placement of a pocket on a t-shirt may not be considered innovative, but even minor differentiators can help distinguish a product in a crowded field. A design registration can support a blended strategy which also deploys other IP protection, such as trademark rights.
Every consumer will be intuitively familiar with the power of a brand name such as LULULEMON or NIKE, or the well-known Nike Swoosh Design.  That topic is well-covered elsewhere. However, some brands take advantage of a lesser-known area of trademark rights: distinguishing guise protects the shape of the product or its packaging. It differs from industrial design, and one way to consider the distinction is that an industrial design protects new ornamental features of a product from when it is first used, whereas a distinguishing guise can be registered once it has been used in Canada so long that becomes a brand, distinctive of a manufacturer due to extensive use of the mark in the marketplace. It's worth noting that the in-coming amendments to the Trademarks Act will do away with distinguishing guises.
One good example is the well-known shape of CROCS-brand sandals. The shape and appearance of the footwear itself has been used so long that it now functions as a brand to distinguish CROCS from other sandals. Just as with industrial design, the protected features cannot be dictated primarily by a utilitarian function.
Others have filed distinguishing guise registrations in Canada, including Canada Goose Inc. for coats and Hermès International for handbags.
TIP: For a distinguishing guise application, each applicant will have to file evidence to show that the mark is distinctive in the marketplace in Canada. That is not the case with a regular trademark, such a word mark or regular logo design.
We review the final areas of IP protection in Part 3.
Calgary – 7:00 MST
No comments