.
By Richard Stobbe
Complex technology like blockchain is in fashion. What about IP protection for seemingly simple items like shirts, shoes and undergarments? As competitors jostle for position in the fashion and apparel marketplace, how do intellectual property rights apply?  Make no mistake, IP rights in the fashion and apparel industry are fiercely contested. Fashion products can be protected in Canada using a number of different IP tools, including:
confidential information
patents
industrial design or "design patent"
trademarks
trade dress
copyright
personality rights.
For many products, there will be an overlap in protection, and we'll discuss some examples. In Part 1, let's review the first two areas:
Confidential information or 'trade secrets' refers simply to information that has value to a designer or manufacturer because competitors don't have access to the information. As long as the information is kept secret, and is only disclosed to others in confidence, then the secrets may remain protected as 'trade secrets' for many years. The confidential information may be made up of related business information, such as contacts of suppliers, pricing margins, new product ideas or prototype designs. The period of confidentiality may be short-lived in the case of a new product design: once the product is released to customers, it's no longer confidential.
An owner of confidential information must take steps to maintain confidentiality, and the information should only be disclosed under strict terms of confidentiality (as part of a non-disclosure agreement (NDA), or confidentiality agreement).
If the confidential information is misappropriated, the owner can seek to enforce its rights by proving that the information has the required quality of confidentiality, the information was disclosed in confidence, and there was an unauthorized use or disclosure in a way that caused harm to the owner.
TIP: Ensure that you take practical steps to limit access to the confidential info. And when signing an NDA, make sure it doesn't contain any terms that might inadvertently compromise confidentiality or give away IP rights.
Many apparel and footwear companies rely heavily on patent protection to block competitors and gain an advantage in the marketplace.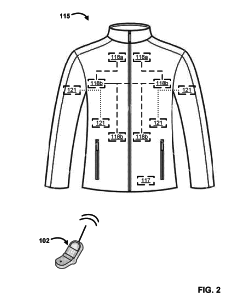 Let's take a few examples. In pursuing the 'holy grail' of outdoor activewear, many manufacturers are seeking a comfortable, breathable jacket that can keep a wearer warm without overheating.  The North Face System recently filed an application for a smart-sensing jacket using sensors to determine a "comfort signature" based on differences in environmental conditions between the sensors and making adjustments for the wearer.
A competitor – Under Armour Inc. – is seeking patent protection for garments incorporating printed ceramic materials to retain heat, without sacrificing other performance qualities such as  water and dirt repellency, durability, breathability and moisture-wicking qualities. In this patent application, Under Armour is seeking protection not only for the fabric but also the innovative method of manufacturing the fabric.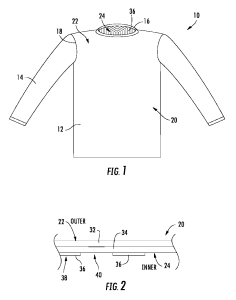 From high-tech jackets to innovative shoe designs, to more specific components, such as garment linings, or improved fasteners, patents can provide a valuable tool to ensure that a company's research-and-development initiatives can bear fruit in the marketplace.  By providing a period of exclusivity for the patent holder, this category of IP protection keeps the field clear of infringing replicas while the company recoups its investments and turns a profit on a successful product technology.
In the case of many fashion or apparel products, the time and cost of patent protection – it may take several years before a valid patent is issued – may not be justified in light of the high turn-over in seasonal product lines, and the ever-shifting tastes of consumers.
TIP: Make sure you consider both sides of the patent issue: as an inventor, an investment in patent protection may be worth considering, particularly in a product area where the underlying 'technology' or innovation may be commercialized over a number of years, such as the famous Gore-Tex fabric, even though superficial fashions may change during that time. On the flip side, manufacturers should take care to ensure that their own designs are not infringing the patent rights of some other patent holder.
Calgary – 07:00 MST
2 comments