By Richard Stobbe
In a long-running battle between Trader Joe's and _Irate Joe's (formerly Pirate Joe's, a purveyor of genuine Trader Joe's products in Vancouver, B.C.), the US Circuit Court of Appeals recently weighed in. We originally covered this story a few years ago.
In Trader Joe's Company v. Hallatt, an individual, dba Pirate Joe's, aka Transilvania Trading [PDF], the court considered the extraterritorial reach of US trademarks laws. The Defendant, Michael Hallatt, didn't deny that he purchased Trader Joe's-branded groceries in Washington state, smuggled this contraband across the border, and then resold it in a store called "Pirate Joe's" (although Hallatt later dropped the "P" to express his frustration with TJ's). Trader Joe's sued in U.S. federal court for trademark infringement and unfair competition under both the federal Lanham Act and Washington state law. Since Mr. Hallatt's allegedly infringing activity took place entirely in Canada, the question was whether U.S. federal trademarks law would extend to provide a remedy in a U.S. Court.
In the wake of this decision, Trader Joe's federal claims are kept alive, although the court dismissed the state law claims against Hallatt.
The court concluded: "We resolve two questions to decide whether the Lanham Act reaches Hallatt's allegedly infringing conduct, much of which occurred in Canada: First, is the extraterritorial application of the Lanham Act an issue that implicates federal courts' subject-matter jurisdiction? Second, did Trader Joe's allege that Hallatt's conduct impacted American commerce in a manner sufficient to invoke the Lanham Act's protections? Because we answer "no" to the first question but "yes" to the second, we reverse the district court's dismissal of the federal claims and remand for further proceedings."
In plain English, the appeals court has asked the lower court to reconsider the federal claims and make a final decision. Grab a bag of Trader Joe's Pita Crisps with Cranberries & Pumpkin Seeds … and stay tuned!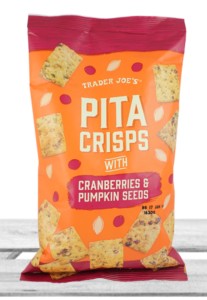 Calgary – 08:00 MST
No comments