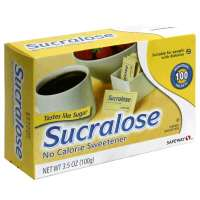 Decide for yourself: if you see these two products on the grocery store shelf, will you be confused and mistakenly buy generic "Sucralose", thinking it's brand-name SPLENDA?
 
 
McNeil Nutritionals, the makers of SPLENDA brand artificial sweetener, lost in court (McNeil Nutritionals, LLC v. Heartland Sweeteners LLC, 2007 WL 1520101 (E.D. Pa.)) in its attempt to block the sales of a competitor's product.  McNeil alleged that the competitor's brand infringed on the SPLENDA trade dress with its distinctive yellow packaging and graphics.  Heartland makes private-label sweeteners for a number of retailers, including Giant, Stop & Shop, Food Lion, and Safeway.  The private-label packaging is also yellow, with blue font and white coffee-cup graphics.
The court disagreed with McNeil and denied the injunction application.  One of the court's findings was that health-conscious consumers who purchase sugar alternatives will take care in making buying decisions and therefore won't be easily confused.  In Canada, the factors considered by the courts are:
the existence of good-will in the trade dress or trademark;

deception of the public due to a misrepresentation, and

actual or potential damage to the plaintiff.
McNeil's bid to shut-down a competitor demonstrates the importance of brand recognition in a competitive marketplace.
 
 
Calgary – 11:30 MST
No comments