By Richard Stobbe
In a sprawling,  billion-dollar lawsuit that started in 2010, a jury yesterday returned a verdict in favour of Google, delivering a blow to Oracle.  (For those who have lost the thread of this story, see : API Copyright Update: Oracle wins this round).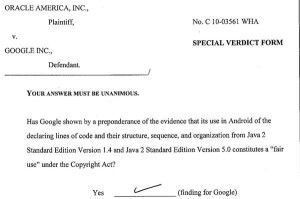 The essence of Oracle America Inc. v. Google Inc. is a claim by Oracle that Google's Android operating system copied a number of APIs from Oracle's Java code, and this copying constituted copyright infringement. Infringement, Oracle argued, that should give rise to damages based on Google's use of Android. Now think for a minute of the profits that Google might attribute to its use of Android, which has dominated mobile operating system since its introduction in 2007. Oracle claimed damages of almost $10 billion.
In prior decisions, the US Federal Court decided that Google's copying did infringe Oracle's copyright. The central issue in this phase was whether Google could sustain a 'fair use' defense to that infringement. Yesterday, the jury sided with Google, deciding that Google's use of the copied code constituted 'fair use', effectively quashing Oracle's damages claim.
Oracle reportedly vowed to appeal.
Calgary – 10:00 MST
No comments