By Richard Stobbe
An inventor had a "wow" moment when he came across a design improvement for cold-weather visors – something suitable for the snowmobile helmet market. The helmet maker brought the improved helmet to market and also pursued both patent and industrial design protection. The patent application was ultimately abandoned, but the industrial design registration was issued in 2010 for the "Helmet Face Shield" design, which purports to protect the visor portion of a snowmobile helmet.
AFX Licensing, the owner of the invention, sued a competitor for infringement of the registered industrial design. AFX sought an injunction and damages for infringement under the Industrial Design Act.  The competitor – HJC America – countered with an application to expunge the registration on the basis of invalidity. HJC argued that the design was invalid due to a lack of originality and due to functionality.
Can a snowmobile visor be protected using IP rights?
A registrable industrial design has to meet certain criteria: (i) it must differ substantially from the prior art (in other words it must be "original"); (ii) it cannot closely resemble any other registered industrial designs; and (iii) it cannot have been published more than a year before application for registration.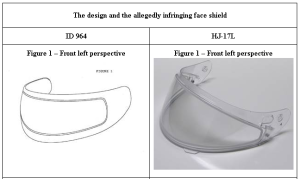 In AFX Licensing Corporation v. HJC America, Inc., 2016 FC 435 (CanLII),  the court decided that AFX's industrial design registration was valid but was not infringed by the HJC product because the court saw "substantial differences" between the two designs. In summarizing, the court noted the following:
"First, the protection offered by the industrial design regime is different from that of the patent regime…Â the patent regime protects functionality and the design regime protects the aesthetic features of any given product." (Emphasis added)
The industrial design registration obtained by AFXÂ does "not confer on AFX a monopoly over double-walled anti-fogging face shields in Canada. Rather, it provides a measure of protection for any shield that is substantially similar to that depicted in the ID 964 illustrations, and it cannot be said that the HJ-17L meets that threshold."
The infringement claim and the expungement counter-claim were both dismissed.
Calgary – 07:00
No comments